Welcome!
I have gone from researching my direct linege to the first member of the Cadotte family in Canada, to a one name study of the name by linking all the branches. I know its a hugh undertaking, but it is so interesting and rewarding.
This site is a result of my direct Cadotte family research.
Additional information will be added, as time permit. I hope you enjoy your visit.
Please feel free to sign our new guestbook and let us know what you think of our site now!
Early Cadotte Ancestry
Through the generations to Michel (le petit) Cadotte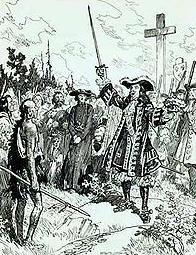 Holding Alofta sword and symbolic tuft of sod, a French envoy, Sieur de Saint Lusson, took possession of all Great Lakes country in the name of King Louis XIV of France in an impressive ceremony held at Sault Ste. Marie on June 14, 1671.
Among the voyageurs on this occassion was Mons. Cadeau (surname later changed to Cadot/Cadotte), 1649-1729.
Photo source: "In Other Years", Sault Star Newspaper, Sault Ste. Marie, Ontario. June 19, 1997.
The grandson of earlier mentioned Mons, Cadeau - Mathurin Cadot was born 1649 Poitou-Charentes, France. He married on 31 Jul 1688 to Marie Catherine Durand (1666-1708), and died Nov. 8, 1729, Batiscan, Quebec. He is buried: Saint-Francois-Xavier Cemetery. Batiscan. Quebec
Children included:
Marie Louise (1690-1708)
Jean Francois (1693-1743)
Charles (1696-1763)
Marie Jeanne (1697-1759)
Rene (1699-1749)
Mathurin Narcisse (1701-1777)
This family produced many voyageurs, starting with Mathurin, who left for a trip up the Outaouais five days after his wedding.
His sons, Francois, Rene, & Charles also answered the call of the wild and traveled west.

I descend through a son of Mathurin Cadot (1649-1729): Jean Francois Cadot (1693-1743)
Jean Francois's son Michel Cadot was born 18 Sep 1729 Batiscan. Quebec. He married on 17 Jan 1761 to Marie Anne Cosset (1742-1817), and died 15 Mar 1784 Maskinonge, Quebec
Children included:
Alexis
Marie Joseph
Michel (le petit)
Anne
Josephte
The descendants of Michel (LePitte) Cadotte is now online.
Research Boxes
Lists and genealogy information available at this site.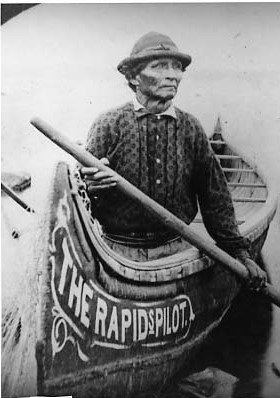 Offers information specific to early Sault Ste. Marie famlies.
All documents are off site and in PDF format.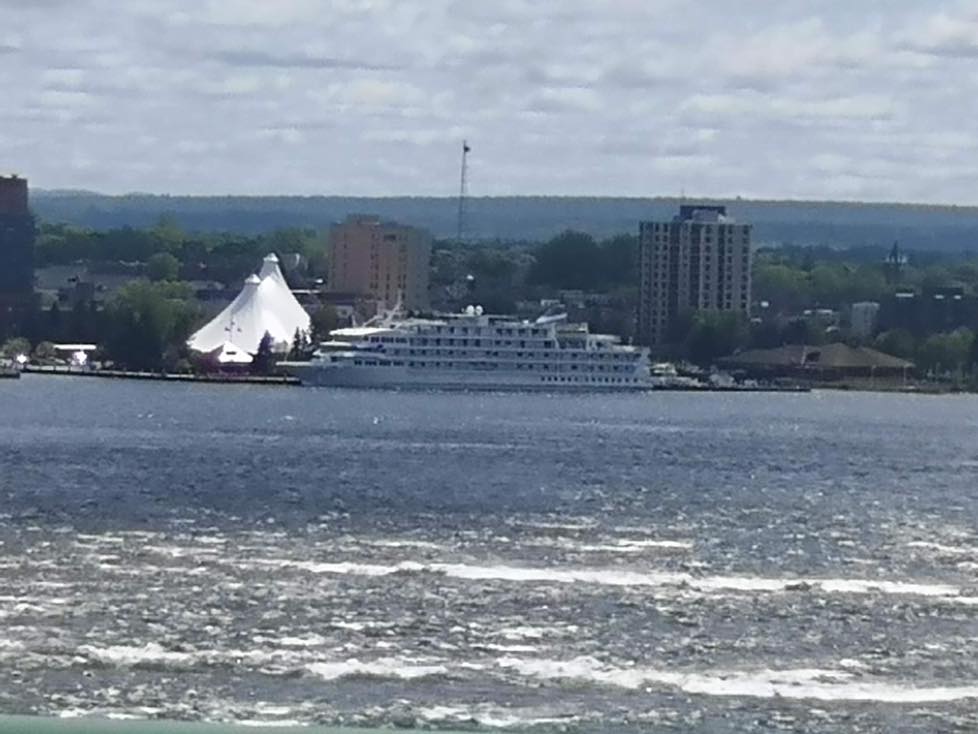 Offers random bits of information of Sault Ste. Marie and area.
All documents are off site and in PDF format.
Research Links
Links to our favorite research sites.